Frome Festive Countdown – making mince pies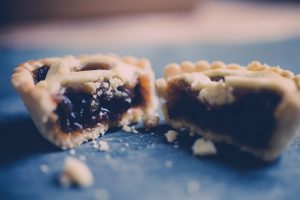 Is it really Christmas if mince pies aren't involved? You could bake an extra batch for your neighbours too. Ready, steady, bake!
Mince pies
You'll need:
Jar mincemeat. You can add a tablespoon of brandy to the opened jar for extra festive flavour.
200g Plain Flour (plus extra to dust the work surface.)
25g Caster Sugar (plus extra to sprinkle on pies before cooking.)
125g Cold Butter or Margarine
2 beaten egg or approx. 50ml milk to mix ingredients to form a dough keeping some of liquid to glaze the pies before cooking.
Method
Before making, heat the oven to 180c and have a rolling pin and a greased mince pie tray ready.
Mix flour and fat together using the rubbing in method to form a breadcrumb like mix.
Stir in sugar and gradually add enough liquid using your hands to form the pastry dough (remember to reserve some of the egg mix or milk for glazing).
Lightly dust the cleaned work surface with flour before thinly rolling out your dough to approx. 3 ml thick.
You can then use cookie cutters to form the 12 bases and tops for the pies.
Place the pastry bases into the pie tin and fill with mincemeat and cover with the tops.
Brush them with egg or milk and lightly sprinkle with sugar and place in the oven for approx. 20mins. (they are done when pastry starts to look golden).
Set aside to cool and then get eating!
Let's see your mince pie creations and we will give you our best virtual Paul Hollywood hand-shake. Make sure you check the Frome Festive Countdown for more Christmassy ideas and activities.