Celebrating the Apple in Frome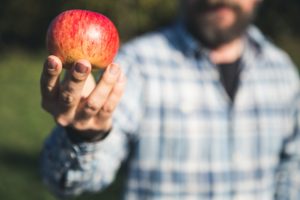 This year is the 30th anniversary of Apple Day. It was started by Common Ground in 1990 as a celebration of all things 'apple' and is now an important date in the autumn events calendar throughout Britain, and nowhere more so, than in Somerset.
Frome has hosted an Apple Day since 2009, when the first one was held at Christchurch School and the Key Centre, organised initially by the Sustainable Frome Apple Group. In Autumn 2018, thanks to the People's Budget vote, a Community Orchard was planted at the Old Showfield and was the ideal spot for Frome Town Council to host an event packed full of apple themed fun, from pressing apples, to apple crafts, longest peels and foraging tours. Due to Covid-19 it was not possible for this year's Apple Day but even though we can't get together en-masse to celebrate, we can honour the humble apple with a walk down memory lane.
We generally think of orchards as being out in the countryside, but Frome has had its fair share of them – old maps of the town bear testament to this. Although it no longer exists, Thomas Bunn was very proud of his orchard at Monmouth House on Cork Street but it was also a favourite haunt for local youngsters to "scrump" as recorded in his diary (he was not best pleased!)
An old orchard that does still exist was originally planted by the nuns of the Order of St Louis in the gardens of what was their convent at West Hill House but is now in the grounds of St Louis School. The old trees that children have played under for generations have names like Darcey Spice, Laxton's Superb and Winter Gem and have been used for pressing to make juice at many an Apple Day. In 2010 'apple' expert Peter Collett helped name some of the apples found in the St Louis Orchard. Peter and his boxes filled with hundreds of varieties of apple were an incredible sight at the Apple Days he attended – as was his ability to identify any apple you brought in! St Louis's is not the only school lucky enough to have an orchard in Frome there is also one at Christchurch School and Oakfield Academy.
The Millennium Green Orchard was planted in the early years of the new millennium with a selection of old west country varieties of cider, culinary and dessert apples with names like Hoary Morning, Golden Knob and Tom Putt. Since then it's been the scene of pruning workshops and storytelling as well as Wassails being held here every year. This is a traditional ceremony that usually taking place in January, wishing the trees a bountiful crop for the coming year which involves much noise and merriment. There are many traditional Wassail Songs including this one from the Blackdown Hills;
Wassail, wassail all around our town
Our cup it is white and our ale it is brown;
Our bowl it is made of the good old ash tree,
So now my brave fellows, let's drink unto thee.
Drink unto thee, let's drink unto thee,
So now my brave fellows we'll drink unto thee.
Hat-fulls, cap-fulls, three bushel-bagfuls
and a hurt heap under the stairs
Hip Hip Hooray!
So even though this year we can't hold Frome Apple Day as we usually would we can still celebrate all things 'apple'. Perhaps with a walk to the Millennium Green and Old Showfield orchards, or by planting an apple tree, baking an apple cake, having a family competition to see who can make the longest piece of apple peel, apple bobbing, making toffee apples…or making up a wassail song for Frome to wish the trees in the Community Orchard a bountiful year in 2021!
Find out more about the Millennium Green, the Old Showfield and more Frome's outdoor spaces here.
Blog credit Sue Bucklow
Photo credit Chris Bailey 
Published 23/10/2020