Upcy Coffee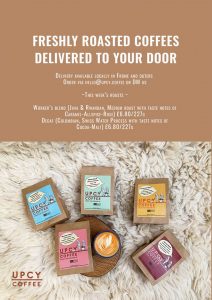 Delivering in and around Frome. 50% discount for health care workers. Any order placed by midday can be delivered within the same day.
They can grind the coffee to suit your brewing method or pack as whole beans. Their coffee will be packed in a recyclable paper bag. Please get in touch via hello@upcy.coffee or send a message on Facebook.
Frome-based Upcy produces stunning speciality coffees using a zero waste, carbon neutral system that's as good for the biosphere as it is for you. They use EcoRoast technology to turn waste coffee grounds into renewable energy that powers their roastery.