Sugar & Spice Bakehouse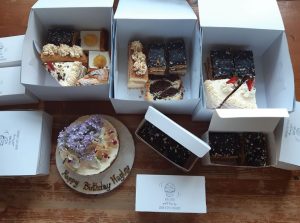 Delivering at weekends in and around Frome. See Facebook page for details.
Sugar & Spice Bakehouse is a small, family run business making its delicious products with dedication and passion. Magda has a lot of experience with baking, cooking and crafting which makes her work outstanding.
As we value quality, our kitchen is always filled with local, free-range eggs, best butters and flour. We also choose reusable items, cardboard, metal foil and true cellophane over plastic!
Gluten free diet? Vegan? Low on sugars? We can make something special for you, too!
Our offer is vast; from delicious birthday cakes to beautifully done sugar crafted items.
Sugar & Spice Bakehouse
61 Westfield Road, Frome, BA11 4HZ