Hapsford Farm Cottage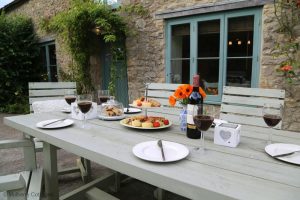 Idyllically situated within walking distance of a river, ancient woodland and a cycle path, this traditional stone cottage and seperate cowshed is located in countryside near the medieval town of Frome. The historic village of Mells is a 2 mile stroll along the beautiful wooded valley. It has a 15th century inn, The Talbot, serving modern British food and an award winning shop and cafe. This lovely cottage also makes ideal guest accommodation for weddings at nearby Babington House.
In keeping with its local stone exterior and farmland setting, Hapsford Farm Cottage has been recently converted to luxury present day standards using solid wood floors and natural slate tiles. An exciting conversion of the cowshed accross the garden for your sole use means that guests can now enjoy their own wood fired stove pizza oven! Imagine preparing your own dough and choice of toppings and then sinking into the comfy armchairs with your culinary creations and a glass of wine! A table tennis table, table football and pool table make this a great place for all ages to hang out when they want to escape the rest of the family! Children will be delighted to discover some freshly laid eggs from fostered chickens that can be housed within the private walled garden.
Gas central heating and a generous log burner keep the whole cottage warm through the winter months making this an ideal self-catering holiday location at any time of the year.
Hapsford Farm Cottage
Great Elm, Frome BA11 3NW