Clinkgate Farmhouse
Clinkgate Farmhouse sits on the north side of Frome in that area of the old market town known as Clink. You won't really notice the hill or indeed the farmland that once surrounded Clinkgate Farmhouse. What you will notice is the warm hospitality, the very comfortable bedrooms with their own bathrooms and the farmhouse breakfast lovingly cooked on the farmhouse Aga.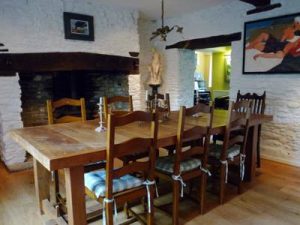 Clinkgate Farmhouse has two double bedrooms with one having an adjoining room with bunk beds making an ideal family room. All the rooms have their own TV's. The Lyveden room has an en-suite bathroom with shower and bath. The Windmill room has a wash basin in the well proportioned room and a private bathroom with bath and shower just along the picture lined hall.
Clinkgate Farmhouse is not one of those "fussy" B & B's. You won't find knitted loo roll holders or those annoying 'keep your feet off the bed' signs. You will find an abundance of art, a large mostly lawned garden, a place to park your car off the road, an open fireplace and woodburner and a large Longleat Oak table to eat your breakfast from. First and foremost Clinkgate Farmhouse is a happy lived-in home along with Minnie-the-Moocha, the resident Jack Russell, who gets on with everybody.
Clinkgate Farmhouse
Clinkgate Farmhouse, Frome, BA11 2EN