Caroline Walsh-Waring, Artist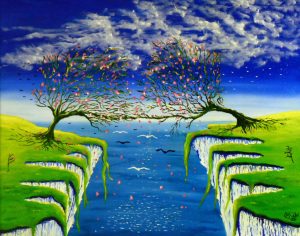 Caroline is a surrealist artist living and working in Frome for 12 years, she runs the Frome Artists Café appearing regularly in the Frome Open Studios in addition to many exhibitions across the region.  She paints bright, fluid paintings, mainly in oils, influenced by images from the landscape which inspire her imagination.
She works in watercolour, pen and graphite producing yet more original images and fun cartoons.  Much of her work is available from her website as mounted limited edition prints and greetings cards and she designs a new image for her Christmas cards each year.
Caroline occasionally works on sculptural ceramics, many in porcelain creating surreal sculptural figures, bowls, vases and garden planters, creating one-off personal gifts.
Visit Caroline's website and find her on Facebook, Instagram and Twitter.