Bridge Café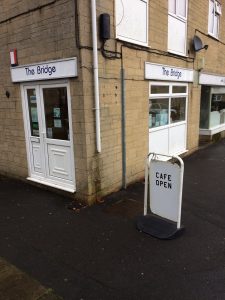 The Bridge is a community café open since 2003 and run by volunteers. They aim to provide a bridge between Christians and the local community.
Simple affordable food is offered, and it provides somewhere for locals to call in for a chat. Welfare benefit advice is also provided on two mornings a week.
The café is open Tuesdays & Wednesdays 11am – 1.30pm and Thursdays & Fridays 11am – 4pm.
As well as using Fairtrade ingredients, the café sells Traidcraft Fairtrade coffee, tea, sugar etc.
The Bridge Cafe is located at the junction of Trinity Street and Selwood Road.
Bridge Café
43 Selwood Road, Frome. BA11 3BS