Amica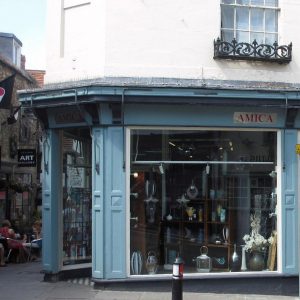 Amica is the largest independent gift shop in Frome, and based in one of Frome's oldest buildings. Our building itself is worth a visit to see the Tudor rose carved into the old wooden beams.
It is often referred to as an "Aladdin's cave" due to the unique range of products and quirky layout. Although this is the perfect place to get birthday or Christmas presents, we have weekly deliveries so there is always something new to find. We sell toys, bags, stationery, candles, frames and much more which are the perfect gift for family, friends or yourself!
Leather Goods
Amica is home to real leather bags, wallets and belts which you can smell as soon as you walk through the main entrance. We have high quality items from brands such as Radley, Tula, Gianni Conti, Gigi, Vera Pella and My Wallet, which are guaranteed to last years.
Gift Wrap
As well as gifts, Amica has everything you need to make your present look beautiful! Wrapping paper is sold in sheets or rolls to help decide how much you need. Hidden on one of the walls is a huge variety of gift bags, gift boxes, ribbon and bows for those who fancy going the extra mile. We also have cards for every occasion, age or if you just want to send a personal note we have blank cards designed by local artists.
Home ware
We also have a huge range of home ware items which you didn't set out to buy. Amica's home ware selection includes ceramic and melamine kitchen items and is Frome's supplier of the well know company Portmerion. Doorknobs come in a variety of materials, colours, size and can jazz up any door. Amica has a big selection of napkins and include Easter and Christmas designs depending on the season. We also have one room dedicated to vases, candles and candle holders so there are lots to choose from. Dartington is one of our main suppliers of beautifully crafted glassware, which are best suited for those special occasions.
Amica
11 – 12 Cheap Street, Frome, BA11 1BN