Frome offers a wide variety of shops, many of them independent and specialist, as well as the well- known national chains, cafes, restaurants and markets. Our local businesses look forward to welcoming you to their stores.
St Catherines – Frome's Artisan Quarter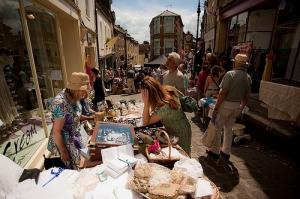 The cobbled streets of St Catherines used to be the main road into Frome when everything arrived by packhorse or wagon. Now the narrow streets feature artisan shops admired by Mary Portas.
Here you will find something different: classic gifts, stylish clothes and accessories, ceramics, haberdashery, classy burlesque dresses, vintage clothes, florists, ironmongery and some great cafes and restaurants.
Cheap Street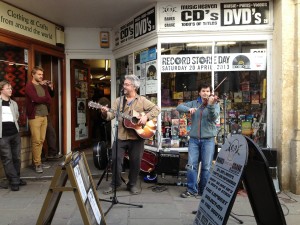 Frome's pride and joy. The leat carries the stream from the spring beneath St. John's Church. Children love to drop things into it – and sometimes themselves! Walk up between the old shops with their hanging upper stories. Here you will find books, records, bags and other leather goods, housewares, artisan food, bread and cakes and some excellent places to eat or have a coffee.
King Street
On the junction of King Street and the Market Place lies The Archangel – a medieval inn transformed into a boutique hotel, bar and restaurant. From there, King Street loops around to meet Cheap Street. On the way you will be diverted by independent shops selling fashion, fabrics, modern designer household goods, pet and aquatic supplies, The Three Swans pub and M & S Simply Food.
The Westway
Across the bridge from the Cattle Market Car Park is the Westway precinct. Long established local businesses selling toys and stationery, art and art supplies and homewares have helpful staff who will help you find what you need from their large stocks.
The Co-op supermarket sells dairy products from their own local farm and has an independent butcher. You will also find other national retailers at this location.
Justice Lane & The Bridge


The Black Swan in Justice Lane was a pub but now includes a café, artists' studios, exhibition space and a designer shop. The Bridge is one of only a few in England which still has shops on it. In Frome, you can shop on one side of the bridge or look at the river over the other side by the Blue House.
Markets
Farmers Market on the second Saturday of every month. 
Antiques and Collectors market on every Wednesday.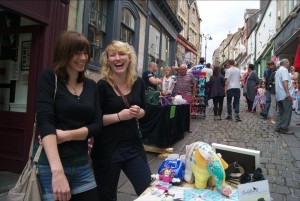 The Frome Independent is fast becoming one of the most popular destination markets in the country. It brings together independent food and drink producers, contemporary designers & makers, vintage fashion, collectibles and furniture. First Sunday of the month. March – December 10am – 3pm
Frome Country Market is held every Thursday.
The Cattle Market at Standerwick (4 miles from Frome) happens every Wednesday. In addition to livestock there are general auctions of goods and chattels.
There are General Markets on Wednesdays and Saturdays in the main car park outside the Cheese & Grain; market stalls are also located at the bottom of Cheap St in the town centre.