Orchardleigh Golf Club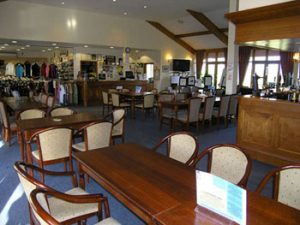 The bar and dining area at Orchardleigh Golf Club is a welcoming and friendly place. As well as enjoying the food and drink available, there are a range of activities to occupy guests and members.
Orchardleigh Golf Club has a long established reputation for the warmth and quality of its hospitality. This and the combination of our unique setting, top quality facilities and resident chef will ensure your visit is a memorable one.
Our restaurant is tastefully decorated and our professional staff are at hand ready to cater your every need. Providing a menu to satisfy the appetites of any golfer make our clubhouse the ideal venue for family celebrations or business events.
At Orchardleigh we have a great reputation for our food. You may choose from the varied menu of our fully qualified chef, ranging from a plate of fresh sandwiches to a buffet or a leisurely three course meal, where the accent is on local produce, meat and fish. Our snacks and daily specials are all delivered and served at the highest standard and highest quality possible.
We have a Daily Specials Board, with items ranging from home made soup to full main meals. All items are available in smaller portions for those customers with a smaller appetite.
Orchardleigh Golf Club
Orchardleigh, Frome. BA11 2PH